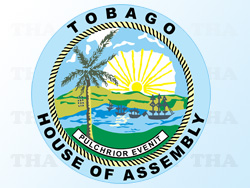 The Tobago House of Assembly (THA) has been making efforts as far back as August 2002 to have several of its projects done through the BOLT (Build Own Lease Transfer) arrangement.
The Assembly wrote various Ministers of Finance and their Permanent Secretaries during this period informing them of its proposal since approval for it to borrow money was not forthcoming from the Ministry.
However, after getting legal advice from prominent attorneys it went ahead with its plans to have the $143M office complex for the Division of Agriculture, Marine Affairs, Marketing and the Environment in September 2009 through the BOLT arrangement, according to the 225-page document relating to this project submitted to the Ministry of Finance by Finance and Enterprise Development Secretary Dr Anselm London on Wednesday.
The document gave a blow by blow development starting with the aide memoire of the Dispute Resolution Commission up to the present agreement entered into with the developers of the property at the corner of the Claude Noel Highway and Shirvan Road in southwest Tobago.
The document revealed that the first savings by the THA on the project was to purchase the three acres of land valued for $12M by the Ministry of Finance Valuation Division instead of the $16.5M asked for by Amera Caribbean Development Limited.
It was also revealed that Project Specialist Limited which evaluated the project said if the Assembly continued to rent the 82,954 square feet of office space required by the Division it would cost $278,543,801 in rent over the 20-year period of the lease for buildings it would never own. However, although under the lease purchase arrangement it would have paid out $310,847,280 and the building which would comply with health and safety laws would belong to the THA.
Project Specialist noted that to borrow money to construct the same building it would have cost $126,112,492 including bridge in finance and repayment over the 20 years at 8 per cent interest it would amount to $253,164,960 while the amount to be paid out in the BOLT arrangement would be $310,847,280, a difference of $57,582,788 which would include a profit to the developer.
Project Specialist observed that heavy weather had been made of the provision in the land lease for a 199-year term at peppercorn rates but this was necessary under a BOLT arrangement because the developer had to have firm ownership to secure financing for the project and the lower lease payments will reduce the amount the Assembly would have to pay when leasing back the property from the developer.