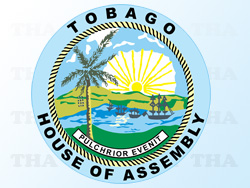 THA Chief Secretary Orville London is awaiting an update and response from Prime Minister Kamla Persad-Bissessar on self-government for Tobago and the incursion on areas under THA's jurisdiction by the Ministry of Tobago Development.
The Chief Secretary has written to the Prime Minister a letter, dated 11 December 2014, to remind her of the commitment she made to him and the people of Tobago to deal with both matters during a recent Cabinet visit to Tobago.
London was speaking at the weekly post Executive Council media briefing on Wednesday at the Victor E. Bruce Financial Complex, Scarborough.
London said he is waiting for the Prime Minister to appraise him on Cabinet's response to his recommendation "for the convening of a meeting between the Central Government and a joint team representing the Tobago House of Assembly and the Forum of Political Parties, to discuss the issue of self-government in Tobago."
He also requested an update "to my correspondence outlining instances of incursion by the Ministry of Tobago Development, in areas under the legal jurisdiction of the Tobago House of Assembly."
Some of the areas highlighted by the THA included other ministries and agencies making policy decisions and engaging in administrative and operational activities without consultation and input from the Assembly and the designing and constructing of public buildings without the Assembly's involvement in any stage of the process. The correspondence also stated the re-afforestation project "which is an infraction not only in terms of state lands, but also the policy and activities related to conservation and economic utilization of the resource."
The leaders last met in Tobago on November 13, 2014.
London indicated that he expected to get a response from the Prime Minister soon. He said the resolution of the two issues were fundamental to the promotion and maintenance of harmony between the Central Government and the THA.
He said the Prime Minister had confirmed her commitment to meet with him in January. "I am hoping that when we do meet in January I'll have a firm decision from her on this particular matter.