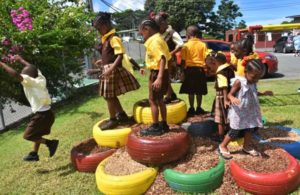 The Community-Based Environmental Protection and Enhancement Programme (CEPEP) team of Bethel/Mt.Irvine will hold a Plant Clinic on November 29th from 10:00 a.m. to 3:00 p.m.
The clinic will be held at Riseland Park, Carnbee and is open to the public.  Persons can bring their plants and a CEPEP team member will do the repotting.
The Plant Clinic is part of CEPEP's 12 Joys of Christmas Celebrations. The programme began in 2017, where team members within each of the twelve districts contributed to their communities by engaging in an activity that brings people joy.
The 2019 edition of this initiative started on November 25th with a Playground Refurbishment Project at the Mt. Grace Early Childhood Centre and will wrap-up on December 11th.