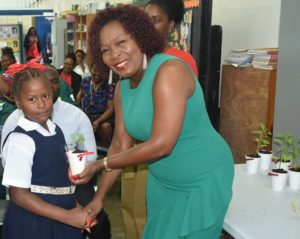 On January 13, 2020, staff members of the Community-Based Environmental Protection and Enhancement Programme (CEPEP) visited the Black Rock Government School to host 'Eat What You Grow.''
The initiative was held to promote growing and consuming local produce. Secretary of Community Development, Enterprise Development and Labour, Marslyn Melville-Jack, encouraged students to grow their own food.
"You will be surprised that once you start growing one little plant, it can become an industry and turn into an income generator," she said.
Seedlings were distributed to the students during the event.