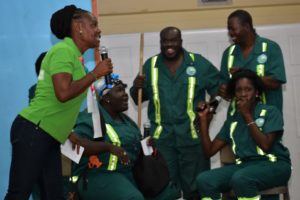 The Division of Community Development, Enterprise Development and Labour wrapped up its 12 Joys of Christmas celebrations last week. A programme showcasing the skills and talents of the Community-Based Environmental Protection and Enhancement Programme (CEPEP) staff members, including monologues, a skit and parang music, was held to mark the occasion.
Secretary of the Division, Assemblyman Marslyn Melville-Jack, indicated that the profile of CEPEP has risen within the community because of their contributions to society.
"You are valued a lot more. We take every opportunity to showcase the awesome work that you all have been doing," she said.
The event took place at the Calder Hall Multipurpose Complex. 2019 marked the third year of the 12 Joys of Christmas initiative, where CEPEP staff members give back to their communities during the Christmas holidays.