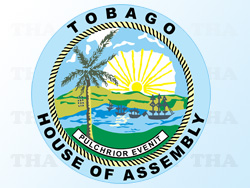 Centrica Energy, the British oil and gas exploration giant has paid out almost $9.2 million to 390 fishermen for the loss of their catch and fish traps during its seismic survey off Tobago's northwest coast which ended in January.
In disclosing this at Wednesday's weekly post Executive Council media briefing, Secretary of Agriculture, Marine Resources, Marketing and the Environment Councillor Cary Melville said the Assembly was pleased with the compensation model used to compensate the fishermen whose livelihood was disturbed by the company's seismic survey.
He said 369 active fishermen shared $8 million, while 21 others received a total of $1.159 million for the loss of their traps.
Melville also disclosed that the Belle Garden fishing facility will be opened in the second week of April while the Roxborough facility will be opened by the end of April or early May depending on the speed at which T&TEC completes the electrical connection. He said a similar facility will be opened in Lambeau at the end of May and the tendering process has begun for facilities at Castara and Charlotteville. He said temporary facilities will have to be found for the fishermen at these two villages since the sites were needed for the new facilities.
He said the Assembly had purchased the Tobago Sea Products ice factory at the Scarborough Fishing Port for $1.58 million and had plans to spend a further $10 million to upgrade the facility and to build a fish market.
Melville said with the recent sighting of the lion fish at the Buccoo Reef, the Assembly had taken steps along with the EMA to sensitise the public of its danger. He said a new management arrangement for the Buccoo Reef Marine Park was being explored with the Buccoo Reef Trust, Environment Tobago, the Institute of Marine Affairs and boat and ski operators.
He said the Assembly had entered into a 20-year lease/own agreement with Milshirv Property Developers Limited for the construction of his Division's head office building at the junction of Milford and Shirvan Roads in west Tobago. He said the project which begins in April will cost $120 million and will be handed over to the THA at the end of the lease. The sod for the building was turned on March 15 2012.