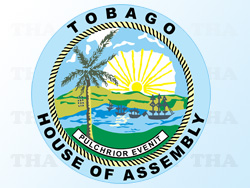 The Tobago House of Assembly (THA) plans to spend an estimated $108 million over the next year to build homes and provide housing lots, Housing and Settlements Secretary Godwin Adams has disclosed.
He said beginning in May the Assembly will build 239 housing units comprising single family houses, town houses, duplexes and apartments estimated to cost $60 million at Adventure in northwest Tobago. The first phase of this programme will see the construction of 78 units.
Adams who was speaking at Wednesday's post Executive Council media briefing said the Assembly was developing a macro plan for housing development as well as 200 service lots for distribution in June at the Courland Estate. These will cost $35 million. In addition 50 service lots were being prepared at Belle Garden in east Tobago at a cost of $13 million to be distributed in June. He said conceptual designs were being done for 25 service lots at Adelphi Estate.
The Housing Secretary said there will be new forms with the additional housing sites for new applicants, however, the 6,000 persons who have already applied will not have to reapply and promised that each applicant will have a fair chance to obtain a unit or service lot through a lottery system. He explained that 50 per cent will be distributed through the lottery, 10 per cent to members of the protective service, 15 per cent among applicants in the vicinity of the sites and 25 per cent to victims of disasters such as fire, hurricane, earthquake, flooding and landslides.
Adams also disclosed that the Assembly had disbursed $3.6 million in the current financial year to applicants for the home improvement grant and home subsidy. He said the monthly income ceiling for the grant has been increased from $5,000 to $8,000 while the income for the subsidy has been increased from $7,000 to $10,000.