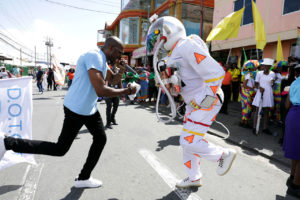 This year's THA Inter-Department Personality and Calypso Competition will be in a futuristic mode.
Under the theme "Future Games", Tobago Festivals Commission Director, George Leacock, said the event will feature futuristic interpretations of the jobs people do daily.
This year's winning calypsonian will be required to take a two-year break, while the winner of the personality competition will not be allowed to re-enter.
"Contestants are allowed four minutes to perform their talent and three minutes to display their costume. Judges will deduct marks if they go beyond the time. That's one of the important things that people need to know," Leacock said.
The personality segment has 14 competitors while 11 individuals will compete in the calypso segment.
The competition will be hosted on February 13 at the Dwight Yorke Parade Grounds in Bacolet.