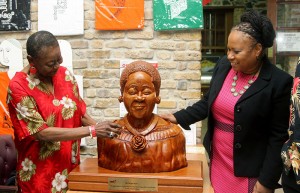 Tobago icon McCartha Lewis, best known to the world as Calypso Rose, continues to build her legacy in Trinidad and Tobago.
On Tuesday (July 14, 2015), the calypso stalwart presented a sculpture of herself to Secretary of Community Development and Culture Dr. Denise Tsoiafatt-Angus. The bust—an upper body wood carving of Calypso Rose—was donated to the Tobago Museum at Fort King George, Scarborough.
The sculpture weighs over 100 pounds. Calypso Rose said she wanted to donate other pieces to the Tobago Museum.
Calypso Rose hails from Bethel, and has written more than 800 songs and recorded more than 20 albums. She was the first woman to win the national Road March title in 1977 with her song "Tempo." In addition, she won the 1978 Calypso King Competition, which was then renamed Calypso Monarch.
The veteran artiste said: "I have over three hundred awards in my life and I want to bring them here in the museum, so that after I go on further, all the tourists, guests, the families, the friends will come and see Calypso Rose's work in the museum of Tobago."
Tsoiafatt-Angus described the handover as timely, as it is in line with the theme of this year's Tobago Heritage Festival, "Community Treasures: Recognition."