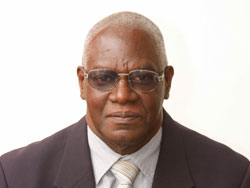 "Heartrending" is how THA Tourism and Transportation Secretary Oswald Williams described the attitude of State-owned Caribbean Airlines Ltd (CAL) to the needs of Tobago.
Williams felt that the state owned airline was paying greater attention to the needs of regional destinations than those of the taxpayers of Tobago. "While they can't promise Tobago anything they are taking care of the entire Caribbean with flights. Flights that are subsidised by the taxpayers of Trinidad and Tobago, including those that live in Tobago and it bothers us," he stressed.
"In whose interest is it that Grenada, Barbados and St Lucia must benefit more from Caribbean Airlines than Tobago?" he asked.
Williams' discontentment with CAL follows newspaper reports of the airline's intentions to introduce direct flights between Barbados and Guyana, Barbados and St Lucia, St Lucia and Trinidad and Grenada and Toronto.
Following his return from the German International Tourism Bourse (ITB) in March, Williams wrote to CAL CEO Robert Corbie requesting flights from Tobago to Barbados. The letter dated March 16 said: "I seek your support in providing a weekly transportation link between Barbados and Tobago during the coming winter. TUI one of the world's largest tour operators, brings a fortnightly charter to Barbados from Scandinavia starting with Wednesday, 14 December 2011, with six rotations. They offer to sell some seats to Tobago for one week in each rotation, if the Tobago connection can be made. My understanding is that you currently have a flight out of Barbados at around 6 .00 p.m. on Wednesdays."
The correspondence further asked for an urgent meeting to discuss the possibility of having the flight connection because TUI Travels had already began marketing the charters.
Williams told reporters at a post-executive press conference on Wednesday (14 December, 2011) that he never received a reply to the letter; however two CAL managers finally came to Tobago in May. This, he contended, only came after his Division had made several attempts for a meeting. The two airline officials requested information on passenger traffic between Tobago and Barbados and Grenada since the Assembly was also looking at increasing the traffic between Grenada and Tobago.
He said the information was sent but a meeting was only called two weeks ago on 29 November, although several efforts to have it before. He said when the TUI issue came up "they were still looking at it and can't promise us anything".
Further to that Tobago's Airlifts Committee, chaired by Neil Wilson had been negotiating with Caribbean Airline's for additional flights out of North America for years. A commitment for one weekly flight to New York was finally made beginning December 2010. "We can't get them to commit to anything else. While we are begging them for additional flights including a second flight out of New York, we can't get that out of them. We've asked for flights out of Toronto, we can't get that out of them," the very aggrieved Williams said.
CAL's intention to increase flights from other Caribbean territories and not Tobago could not come at a worse time. It was just two weeks ago that the British Government announced its intentions to increase the very controversial Air Passenger Tax (APD). The APD was reported to be suppressing leisure travel to Caribbean destinations, including Tobago.