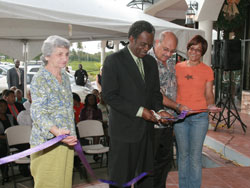 The Tobago House of Assembly cannot provide all employment and opportunities on the island.
THA Chief Secretary, Orville London welcomed private sector involvement in reducing the unemployment rate in Tobago. The point was being made at the opening of Tobago latest retail hub, Shirvan Road Plaza.
Mr London said: "the Assembly cannot be considered to be the agency that has to provide all the employment and all the opportunities."
London told plaza owner Jeffrey Azar that initiatives like his did not only create employment and development opportunities but also "signal that the (employment) pendulum is shifting in the other direction – in the right direction"
He described the THA employment of 57 per cent of Tobago's working population as absurdly and dangerously high. And added: "Unless we are able to change the balance, one slight dip in the economy and Tobago will be in serious trouble."
Azar, he said, was innovative, incisive and able to translate dreams into reality. It was entrepreneurs like him who could help "shift some of the focus away from the Tobago House of Assembly so that today we can develop Tobago and all Tobagonians in a way we can be proud".
The mall is well-positioned, slightly off the Milford Road (a main thoroughfare) and is easily accessible. It brings vitality, vibrancy and excitement to a frequented, yet relatively quiet stretch of road. London felt that Azar had created another hub that would add to Tobago's diversity plant and tourist attractions.