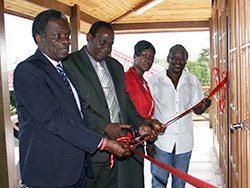 The award winning Tobago Rainforest, received a big boost for its visitors with the commissioning of Bloody Bay Rest Stop last week Tuesday by the THA Division of Agriculture, Marine Resources, Marketing and the Environment.
Secretary of the Division Councillor Gary Melville described the two board buildings as economically environment structures comprising wash rooms, four stalls for vendors and 2,600 square feet of accommodation for travellers using the rain forest trails and the Roxborough/Bloody Road. The facilities which were constructed by local contractor Tobago Homes Limited took nine months to build. They are powered by solar energy.
He said the facilities will be operational from Saturday (September 1 2012) and will provide an opportunity for community tourism in the surrounding villages of L'Anse Fourmi, Bloody Bay and Parlatuvier.
Area representative Assemblyman Tracy Davidson-Celestine said the THA recognised the importance of community tourism in that part of the island and the rest stop was a thrust in this direction. She added that the people of the area had waited for a long time for the facilities.
Chief Secretary Orville London said it was a sense of relief and pride that the facilities were being commissioned, relief because it was over, pride because "we have been able to deliver with class. We remain steadfast in our commitment that the people of this community must get facilities of class, a facility that is durable and suitable."
London said if the building did not have more people a year down the road it would have failed, adding that the THA will continue to provide the resources necessary. Citing business and training opportunities available to Tobagonians through loans and grants from the Business Development Unit and the Financial Assistance Programme, London said: "There is nobody in this space who can say we are not providing opportunities and part of the Assembly's wish is for the people in this area to be independent," London added.
The Tobago Chief Secretary said: "We are continuing to respond to the needs of the people of Tobago. Take advantage of the opportunities available, protect what you have, if you don't protect it, somebody will take it and ensure you derive optimum benefit from these opportunities."