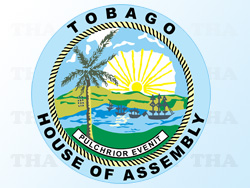 The Tobago House of Assembly (THA) has unanimously voted to record its disapproval of the quality of service provided by State-owned Caribbean Airlines Limited (CAL).
It also voted to mandate the Executive Council to convey its disapproval of the service to the relevant Central Government authorities and to urge these authorities to implement, as a matter of urgency, specific policies and measures to ensure that the airline delivered an improved quality of service to Tobago.
In the absence of Minority Leader Ashworth Jack from the sitting on Thursday the three Minority members present joined with the Majority Side to support the Motion moved by Tourism and Transportation Secretary Assemblyman Oswald Williams.
In asking the House to support the Motion, Williams stated that an effective delivery of service from CAL, both domestic and international, was critical to the development of Tobago and the welfare of its residents.
He said CAL had failed in its responsibility to provide an effective service to Tobago, adding that this ineffectiveness had created significant inconvenience, hardship and distress for residents and visitors. He said CAL's service continued to have an adverse effect on the tourism sector and the economic development of the island.
Williams reminded the House that residents of Tobago were citizens of Trinidad and Tobago and like all the other citizens were subject to pay taxes and obey the laws of the country and they also had rights to services provided by State agencies such as CAL.
He said residents of Tobago were part owners of the airline just like their counterparts in Trinidad but it was not delivering equity of service to the island.
The Tourism Secretary said even though CAL had introduced late night services to Tobago the situation had not improved on the air bridge. He said in April when the services were introduced 31,523 passengers used the air bridge as compared to 31,932 a year ago.
Williams said CAL has not been able to come to terms with the services required on the air bridge between Trinidad and Tobago; it has not been able to prepare for its growth. He said CAL was not prepared to have services above what was required.
He said while the airline was expanding its routes to cater for other Caribbean islands it was not prepared to provide international connectivity for Tobago.