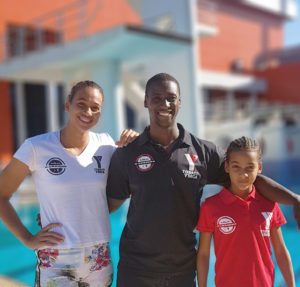 The Tobago YMCA Aqua Warriors competed at the Amateur Swimming Association of Trinidad and Tobago (ASATT) National Open Short Course Championships held from November 7th-10th at the National Aquatic Centre in Balmain, Couva.  The three-member team brought home six overall medals (three gold and three silver) and a 2nd place overall high point trophy
The team included national swimmers Jacob Cox, Mosi Denoon and Ornella Walker, who swam away with a new national record in the 200-meter backstroke in a time of 2:19.47.
Next up for the team is preparation for the ASATT Invitational Swimming championships from December 11-14th.  The Tobago YMCA Aqua Warriors is supported by the Division of Sport and Youth Affairs.