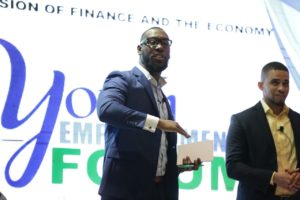 The rapid pace of technological advances continues to impact societies worldwide.
During last week's Youth Empowerment Forum, panelist on the subject 'Disruptive Technology Shaping Industries,' Jamaican Dwight Scott, who is Co-CEO of BlackRock Technology said, persons living in Trinidad and Tobago had no excuse when it came to professional growth, as they could reach anyone in the world with modern technology.
"Dream without boundaries," Scott told the young attendees. "Dream without borders. Dream like the universe is expansive," he encouraged. "That should be the framework of your thinking."
"Disruption is basic. Get the attitude and mindset right," 38-year-old Scott, who reads five books monthly, told attendees. As head of a company earning millions yearly, Scott voiced to attendees they must stop providing excuses to fail, if they wanted to build a bright future.