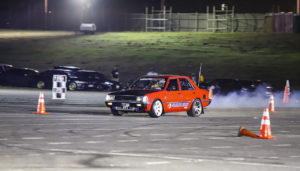 The Tobago Motorsport Association (TMA) staged 'Motor Warz 1.5' on November 2 at the Parade Grounds of the Dwight Yorke Stadium.
Patrons got a chance to see approximately 30 vehicles compete, in categories including drifting and "drag and wind," participate in timed obstacle course races and view a Go Kart exhibition.
Taking the unsafe behavior off the streets was noted as important by TMA member Randell Thomas. "Here we have a controlled environment where you can come and race and be a part of something enjoyable, yet regulated," he said.
The event also presented an opportunity for car enthusiasts to network and was supported by the Division of Sport and Youth Affairs.