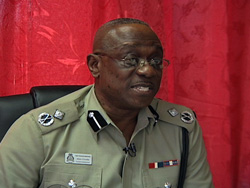 I would say that security in Tobago is pretty good. I think that the citizens of this island are pretty safe. We have our problems with crime as anywhere else; but I think that Tobago is not as bad as many other places.
This was the reaction of ACP Tobago Allan Crooks in an interview with Avian Parks of the THA Information Department.
ACP Crooks said the police have implemented several measures over the years to make Tobago a safer place for both its citizens and visitors, "and we are seeing fruit being born".
"As a matter a fact, he said, "last year we had an 11 per cent reduction in crime, a 33 per cent reduction in murders, and we also had a detection rate in murders of over 80 per cent, which I think is quite commendable."
He said the police continue to implement the measures that they believe would make Tobago much safer. He said quite recently a new initiative called "Meet the People Outreach" was put in place. He explained that the police station was actually moved to the community – a mobile unit where the officers were stationed for a day or two and they receive reports, respond to reports and do a lot of foot patrols in the area, so they are quite visible.
ACP Crooks added that the population at large where these measures have been instituted were quite enthused and have said how happy they were to have the police among them.
In addition, he said, the police had six "Town Meetings" last year during which members of the public were able to vent their views of what's going on and they address it. The meetings will continue this year. "All these measures are in fact bearing fruit and we hope that Tobago will be a lot more safer place in the not too distant future," he said.
ACP Crooks said the police in Tobago have been clamouring for CCTV cameras to monitor activities of persons and the National Security Ministry has promised to have them installed in two months.
He said joint army-police foot patrols continue daily in Scarborough as well as special patrols by the army in the western and south western parts of the Island where most of the crimes were committed.
ACP Crooks admitted that lately there has been an upsurge in breaking of fences and robberies in that area, but "I am happy to report that last week two people were held and were charged for a series of offences. We believe that we have in fact made a dent in that area".
He added that bicycle patrols continue on the beach-fronts with some success. We hope to continue that during this year.
The police have been having fortnightly meetings with hoteliers, villa owners and the Chamber of Commerce in an effort to stem the incidents of crimes against visitors. We also have exercises on the Port, where we have personnel from the Canine Division, the Organised Crime Narcotics and Fire Arms Bureau together with Army Personnel and personnel from the Tobago Division, where search were done on vehicles coming off the Port.
"At the Crown Point Airport, we also have the Organised Crime Narcotics and Fire Arms Bureau. They are based at the airport to stem the flow of illegal drugs going to Europe and North America. They too have been having great success in this field and we continue to monitor that area," ACP Crooks said.