This week we're highlighting some achievements of the Division of Tourism, Culture and Transportation for the period 2017-2020.
Tourism Symposium Focuses on Youth
Tourism has a significant impact on Tobago's development.
Introducing young people to the various aspects of tourism can have many benefits as, not only can it spark interest in the sector, it can also create future industry leaders.
In 2017, the Division of Tourism, Culture and Transportation (DTCT) launched the Youth in Tourism Programme to provide a platform to educate young people on the importance of tourism. A major highlight of this programme was the Tourism Youth Symposium and Career Fair. This initiative helped to acquaint students with the important role that tourism plays in the economic growth and sustainable development of the island. It also facilitated interaction among secondary school students, tourism stakeholders and professionals within the field.
The event allowed the students to explore exciting career opportunities, educated them on the significance of tourism, gave them a voice on issues, and involved them in discussions on how they could contribute to the island's tourism effort.
The symposium, which was held annually in November from 2017 to 2019, was "part of the Division's continued efforts to promote sustainable youth tourism initiatives on the island, where a number of activities bring into focus some of the diverse aspects of tourism, its impact on and benefits to the island's young people," said DTCT Programme Coordinator Sandra Orr-Toney.
Initiatives such as the youth symposium ensure that game changers will continue to lead the industry.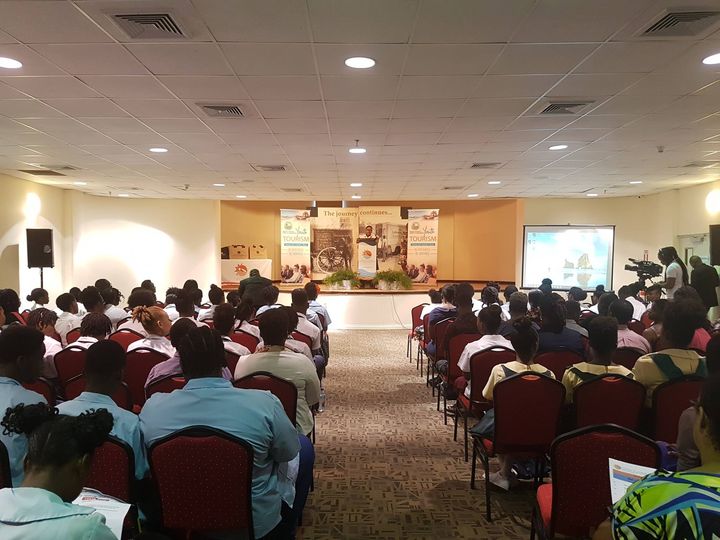 The Tourism Youth Symposium and Career Fair at the Anne Mitchell-Gift Auditorium, Scarborough Library Facility (2018)