It's a new initiative that highlights Tobago's unique products, and presents business owners with an opportunity to build brand awareness. The Tobago Pop-Up Shop also offers entrepreneurs an established and trusted location that's frequented by potential customers, including visitors to the island.
The Pop-Up Shop is an initiative of the Magdalena Grand Beach and Golf Resort in collaboration with the Division of Tourism, Culture, Antiquities and Transportation, DOTCAT. It's set up in the hotel's lobby and poolside, and, is accessible to all visitors.
"As a spin-off from the recently-concluded Tourism Women's Forum, which was held on March 11th and was a collaboration between the Division and the Magdalena Grand management, the Magdalena Grand has continued to work with our tourism entrepreneurs by establishing this weekly pop-up shop in an effort to support tourism entrepreneurs and concessionaires," DOTCAT programme coordinator Sandra Orr-Toney said.
Visitors will find a variety of products at the Pop-Up Shop, including hand-crafted jewelry, scented candles, clothing, and footwear. Among the vendors who have featured so far are One Love Arts and Pinkberri.
Future tourism growth will be best achieved through partnership. Orr-Toney indicated that Magdalena's general manager, Vinod Bajaj, has embraced the initiative. The Pop-Up Shop began on April 8th, and is being hosted, at no cost to the Division.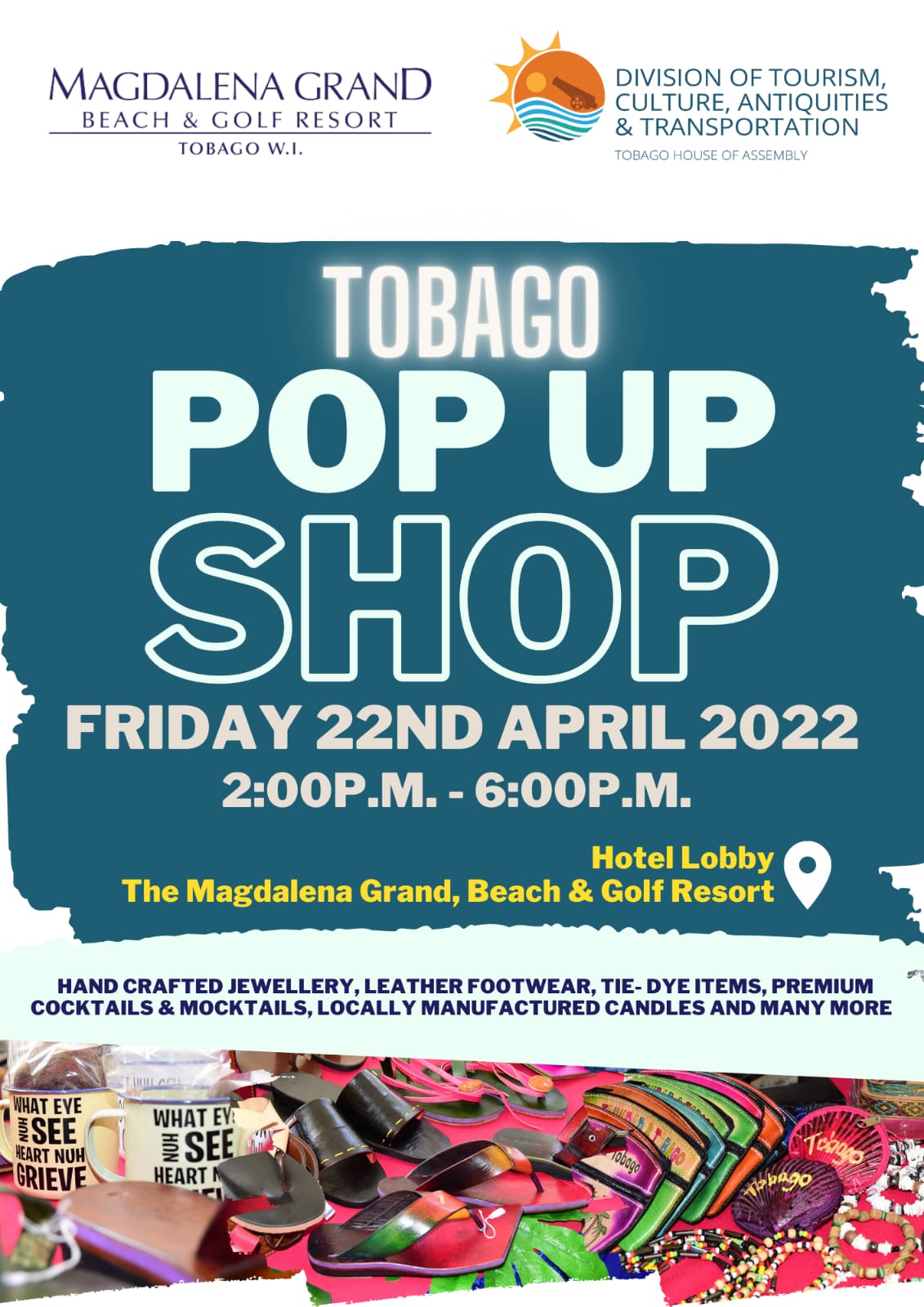 "The Magdalena team that's been coordinating with me are events coordinator Onika Bristol-Solomon and sales manager Carineh Deokiesingh. The hotel thus far has been outstanding, and we do envision working with other likewise entities in this regard," Orr-Toney said.
Come connect with local vendors by visiting the Tobago Pop-Up Shop on Fridays from 2:00 to 6:00 pm!