Roxborough Hospital Commissioned

The New Year is off to a good start for Tobagonians living in the East as the area continues to be developed for the benefit of residents.
With the commissioning of the Roxborough Hospital on January 5, 2021, persons will be able to access critical healthcare services without having to travel to the Scarborough General Hospital in Signal Hill.
Services available will include Accident and Emergency, dental care, imaging services such as X-ray and CT scans, and allied health support services such as phlebotomy and HIV testing.
Prime Minister Dr. the Honourable Keith Rowley delivered the Feature Address.  He said, "This facility has been built in 18 months. What it demonstrates to us is that we have the capacity to do better. I want to say to my people all over Trinidad and Tobago and especially in Tobago East that optimism is an ingredient for a guaranteed future."
 Addressing the gathering, THA Chief Secretary Hon Ancil K. Dennis said, "I am proud as a young Tobagonian, because we are accelerating Tobago's development."
 Tracy Davidson-Celestine, Secretary of Health, Wellness and Family Development said the facility represents a significant milestone for all of us.
"This facility will be opened on a phased basis, starting with the operationalization of the hyperbaric chamber, then the health centre and, later, the hospital," she said.
 During her opening remarks, Member of Parliament for Tobago East, Ayanna Webster-Roy said: "Today's children and generations to come will experience living in a Tobago East that is on par with the rest of the island and the nation."
 The Roxborough Hospital, located in Bloody Bay Road, was completed at a cost of approximately $98 million. It was funded by Central Government with the Urban Development Corporation of Trinidad and Tobago Limited (UDeCOTT) as Project Manager.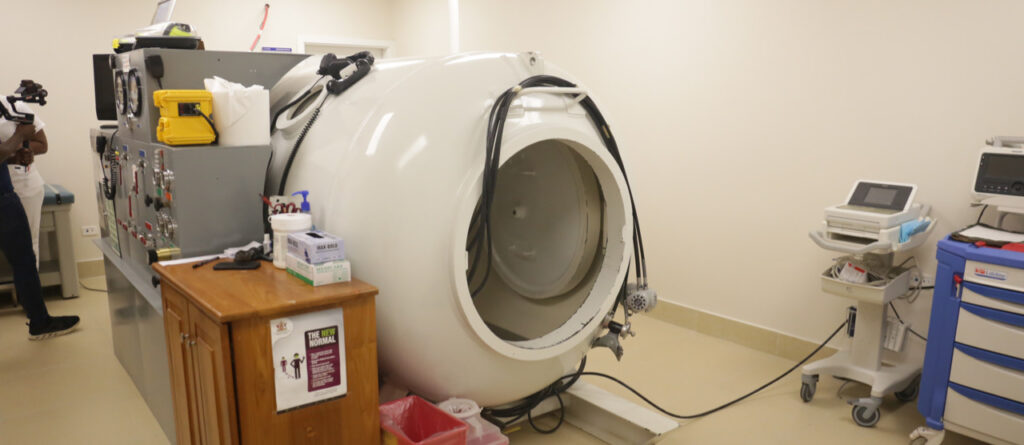 The hyperbaric chamber at the Roxborough Hospital.