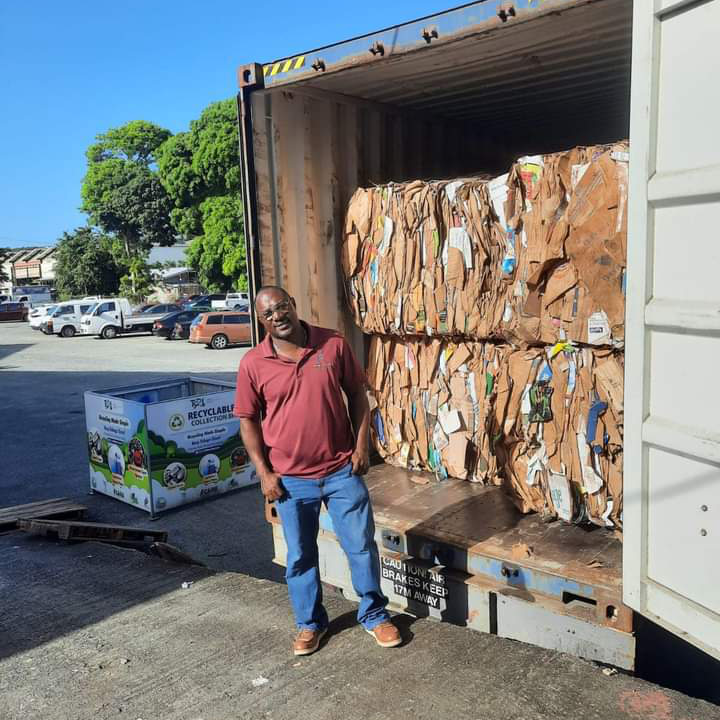 During the COVID-19 pandemic, a service was established to keep our island cleaner.
Poor waste management can adversely affect our health and wellness, the environment, and our economy. And in November 2020, a public-private partnership venture called the Tobago Recycling Resource Initiative (TRRI) was established, with a primary objective of reducing 50% of the total waste generated across Tobago by 2025. Recently, the TRRI Materials Recovery Depot Facility shipped a container holding 20 tons of baled cardboard to Asia, the second container of recovered materials exported since the initiative began.
Managing director at Recycling Waste & Logistics Ltd and Coordinator at TRRI, Shawn Roberts said: "The first shipment of processed materials was baled plastic bottles in November 2021. These sorted and baled materials are shipped out because we don't currently have the waste processing facilities required to fully recycle these recovered materials in Tobago. 
Our facility is primarily a recovery one for after the materials are collected from our recycle drop-off bins, curb-side pick-ups and roadside clean ups."
He said that the initiative initially ran a pilot phase of the venture, which allowed the team to focus on setting up proper infrastructure, as well as a structured public education and awareness programme.
Roberts indicated the volume of collected recyclable materials continues to increase with recyclables collected from the 39 drop-off bins across the island once to twice weekly.
"The recycle bins can be found at major locations such as the Store Bay Beach facility, Penny Savers Supermarket in Carnbee and Canaan, RT Morshead Supermarket in Mt. Pleasant, and the TRRI Recycling Centre in Shaw Park."
Other locations are the Buccoo Integrated Facility in Buccoo and Delaford Community Centre.