Food Safety During Events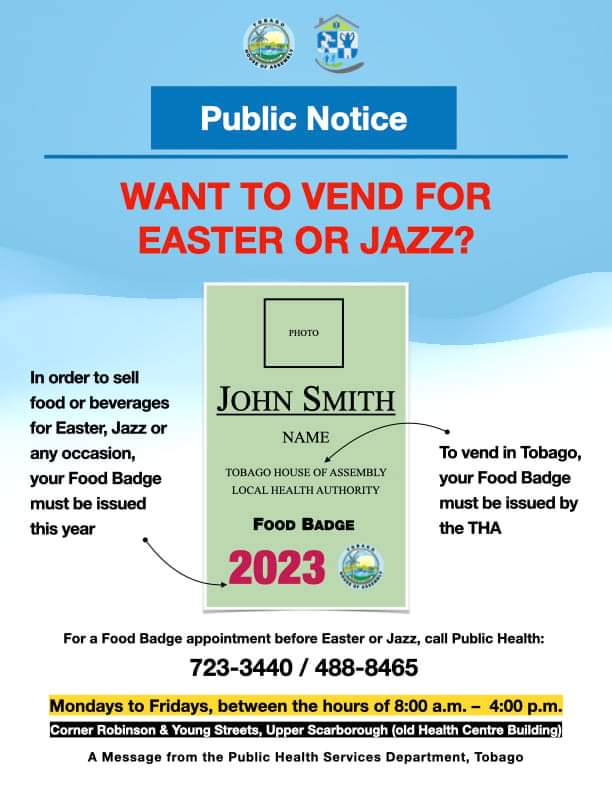 As we approach the Easter holidays, it's the beginning of many outdoor activities and events around the island. Food safety remains important as properly preparing, cooking, and handling food ensures that no one gets sick.
"We've been telling our food vendors, you need to ensure that the food you provide is safe," Secretary of the Division of Health, Wellness and Social Protection Dr. Faith B.Yisrael said. 
"You must have a food badge that has the date 2023 on it, as of April 1st. It must say that you got it from the Tobago House of Assembly. It is the local government, or the municipalities, that are responsible for issuing food badges…If you have a food badge from Trinidad, it is not legal for you to use it in Tobago," she said. 
The Health Secretary, who was a recent guest on the Tobago Updates Morning show, explained that food badges are supposed to be used within the area it was obtained.  
"If you got a food badge in Tobago, you can't just pick up and go to Trinidad. They will not recognise it," she said.
The Division of Health, Wellness and Social Protection restarted the processing of food badge applications in January 2023, and reminders have been disseminated with information on obtaining an updated food badge.
To schedule an appointment, visit the Public Health Services Department at the Corner of Robinson and Young Streets, Scarborough or contact via phone. See flyer for full details.