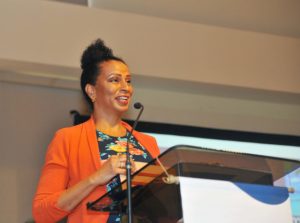 Tobago secondary school students were educated on the benefits of tourism to the island's economy, as well as career possibilities within the industry, at the recent Tourism Youth Symposium hosted by the Division of Tourism, Culture and Transportation on November 22nd.
Themed, "Strengthening our Youth Tourism Platform through Education, Awareness and Social Initiatives," the symposium included students from eight secondary schools with existing Tourism Youth Clubs and those from the Technical Vocational Centre for Persons with Disabilities. In addition to presentations by industry professionals Hassel Thom and Karyn Williams-Sykes, attendees learned more about tourism opportunities at a career fair.
Tourism Secretary Nadine Stewart-Phillips said youth involvement and programmes including the Division's Tourism Essay Competition and Primary School Quiz were vital for the industry's future.
She told the young attendees they were "the influencers and game changers of today and tomorrow: Embrace it and use it for the advancement of your island and your future. Use your influence to make a positive difference." The event was held at the Scarborough Library.