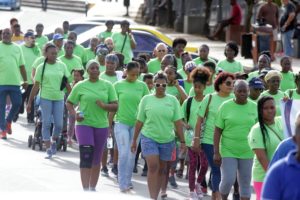 There are many benefits to breastfeeding your baby including increased protection against allergies and eczema, less constipation than baby formula, and reduced risk of viruses, urinary tract infections, inflammatory bowel disease, and ear infections.
This is why there will be a Fun Family Walk tomorrow (August 10, 2019) in support of World Breastfeeding Week (WBW).
Supporters are encouraged to come out and register starting at 6:00 a.m. at Tambrin Square in uptown Scarborough
The event is free to the public. The first 150 registered persons will receive free breakfast and a T-shirt. The official starting time of the walk is 7:00 a.m. from Tambrin Square to the Scarborough Esplanade.
The event is organized by the Breastfeeding Association of Trinidad and Tobago and is supported by the Tobago House of Assembly and the Tobago Regional Health Authority.
World Breastfeeding Week is celebrated every year from August 1-7 to encourage breastfeeding and the improved health of babies. The theme for 2019 WBW is 'Empower Parents. Enable Breastfeeding.'