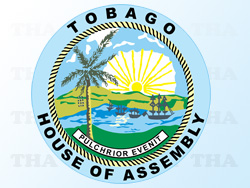 Chief Secretary Orville London says he is disappointed that Prime Minister Kamla Persad-Bissessar cancelled their meeting scheduled for 27 March, 2014. The meeting was for the two political leaders to discuss constitutional amendments towards self-government and greater autonomy for Tobago.
The Prime Minister had planned to be in Tobago on that day and had made arrangements to meet London during her visit, but cancelled the meeting.
London subsequently wrote to the Prime Minister outlining the key points he wanted to raise during their meeting. Persad-Bissessar replied through her secretary, Claire Lara, acknowledging receipt of his letter and stating that its contents were "duly noted".
In his three-page letter London told the Prime Minister that the issue of greater autonomy for Tobago was considered to be the most serious matter in the relationship between Trinidad and Tobago. He added that its resolution was critical to the satisfactory and successful partnership between the islands and, therefore, he proposed that they agree to set a timetable that would allow for a parliamentary debate on the issue by 30 September, 2014.
London also pointed out to the Prime Minister that the Ministry of Tobago Development was blatantly encroaching into areas – such as health, social services, community development and sports – that were clearly devolved to the Assembly under the Fifth Schedule of the THA Act No. 40 of 1996. He said that such encroachments were harmful to the harmonious relationship, and that "their immediate cessation would be a positive first step to redress this undesirable situation".
The Chief Secretary informed the Prime Minister that the delay in undertaking improvements to the ANR Robinson International Airport continued to have a direct adverse effect on the tourism industry and, consequently, the economic development of the island and country. "It would be to our nation's benefit if we were able to conclude these discussions with a firm timetable for undertaking and completing this project," London stated.
He indicated that the absence of THA representatives on critically important State Boards and Committees, the Airports Authority, PTSC, TTEC, WASA, TTPost, Port Authority and TDC, had serious implications for Tobagonians' economic, social and cultural interests, and, most importantly, their quality of life.
London said that the THA Act of 1996 intended that the Assembly access various modes of financing including general revenues, overdraft facilities for recurrent expenditure, term loans for capital development, technical assistance and grants from donor agencies, and participation in government borrowing, but despite its efforts over the years, it has been unable to obtain government approval to borrow for capital development or to participate in the government's debt portfolio.
He added that several of the issues he raised in his letter will serve to revitalise Tobago's economy, while continued discussion and collaboration with the Ministries and agencies such as the Central Bank will advance the cause.