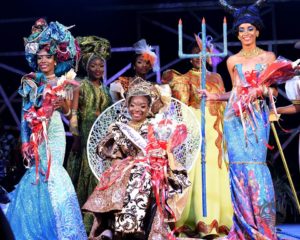 Seventeen-year-old Alliyah Sandy of Mason Hall was crowned Tobago Windward Afro Queen 2020 on February 22, from a field of eight contestants.
It was her first pageant and she was elated.
"I'm proud of myself because I worked hard, so I expected nothing less," Sandy said. "I had a lot of support from family and friends and learned more about Tobago's Carnival and heritage."
Hosted by the Windward Carnival Development Committee, in collaboration with the Tobago Festivals Committee, the Windward Afro Queen competition is in its 51st year and is one of the highlights of Tobago's annual Carnival celebrations.
Goodwood Police Youth Club's Heaven-Lee Alleyne was first runner-up and second runner-up went to Narissa Cephas of Argyle.
The event was hosted at the Cyd Gray Sporting Complex, Roxborough.