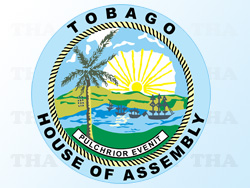 THA Chief Secretary Orville London met newly elected President of the West Indies Cricket Board (WICB) Dave Cameron and members of his team during a courtesy call on Thursday (April 25, 2013).
It was the first time a WICB President had visited the Chief Secretary. "I think it augurs well for the kind of relationship that we expect, where the challenges and interest of the people of Tobago are given the kind of attention that they deserve," London said.
During the meeting, discussions were held with regards to cricket programmes that would benefit the people of Tobago, Tobago becoming more involved in regional competitions and ways in which Tobago could "collaborate with officials on a national and regional level to ensure that cricket continues on the upsurge on the island," London said.
"We're hoping that Tobago becomes more involved in regional competitions," he said. Last year, the island hosted the regional under-17 cricket tournament.
"You have our commitment at the West Indies Cricket Board level to support cricket in Trinidad and Tobago," Cameron said.
Cameron became President of the WICB on March 27, 2013. He said he hoped to accomplish a competitive West Indies team, as well as team consistency. Cameron also wants to see a cricket industry where there is development in all aspects of the game. "When we're looking at the cricket industry, we need to be looking at it in all facets," Cameron said. "It's not only about West Indies cricket, but creating professional cricketers and all that goes with it− the coaches, administrators, scorers, empires," he said.
Comprised of 14 board members, the WICB's headquarters is based in Antigua.