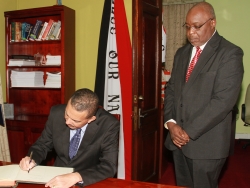 President of the Republic of Trinidad and Tobago Anthony TA Carmona paid an official visit to the Assembly Legislative Chamber on Friday (April 26, 2013). Inaugurated last month, President Carmona was welcomed by the Presiding Officer of the Assembly Kelvin Charles and was introduced to members of the Tobago House of Assembly (THA).
"Tobago embraces you as its President," Charles said. He said the President's visit was a reassuring presence and that he hoped Tobago would see more of him in the future.
Giving an address on the occasion, President Carmona said establishing a greater presence of the presidency in Tobago was one of his goals. He said that as the nation continues to evolve, so should the role of its institutions, including the presidency. "The institution of the presidency is no different, in that it also must engage and meet the needs of our population."
He told THA members that he had met 11 primary school students who will sit the Secondary Entrance Assessment (SEA) examination in May during the Tobago launch of a new initiative called Lunch with the President, which was started in Trinidad last week.
The President said the new initiative aimed "to provide our nation's students at the primary, secondary and tertiary levels with an opportunity to have personal interaction with the President and the presidency." He said there was hope that the new initiative would bring a sense of governance to young people and encourage them to engage in the future development and progress of Trinidad and Tobago. Carmona indicated that he would meet with students across the nation on a monthly basis.
"As leaders, it is mandatory that we remember that we have a responsibility to inspire others. Leadership must not only be inspired, but inspiring," he said.
He congratulated THA members elected to serve Tobago. He noted that there was no official minority position in the Assembly and said the situation of a clean sweep was not unprecedented in the Caribbean region.
"This however does present an interesting conundrum," Carmona said. He said a vast minority of Tobagonians may feel unrepresented in the Legislative Chamber and that integral to any democracy was proper governance. He said the role of opposition could not be underestimated as it provided a system of checks and balances in government.
"In a mature democracy, the elected representative's responsibility must not be referenced only to the wishes of the majority," he said. "There's a higher benchmark of responsibility, which includes selfless governance and inclusive leadership for every member of the country."
"Where there is no representation, voices can be silenced," he said. Carmona told Assembly members that they had the "responsibility to ensure that no one in Tobago, or Trinidad, suffers from the vagaries of majority politics." Elected representatives, mindful of their oath to all constituents, should cultivate the art of genuine listening, he said.
THA Chief Secretary Orville London said President Carmona had taken office at a critical juncture.
"We are confident that under your stewardship, Tobago's interest will continue to be given its deserved priority," London said. "You have taken office at another critical juncture in Tobago's quest and Tobago's journey to full internal self-governance."
"We are comforted that, like your predecessors, you've already demonstrated a respect for and an empathy with the people of Tobago. And therefore, we have confidence and hope that your office, and under your jurisdiction, that our objective will be achieved," he said. "Let us hope, sooner rather than later, you'll be called upon to the sign the Act that will grant full internal self-government to Tobago," London said.
The Chief Secretary said that these were challenging but exciting times.