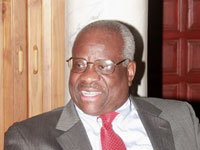 It was an historic visit today October 20, as US Supreme Court Associate Justice Clarence Thomas accompanied by US Ambassador to Trinidad and Tobago Her Excellency Beatrice Walters paid a courtesy call on Chief Secretary Orville London, at the Administrative Complex.
Speaking after the meeting the Chief Secretary said: "It was a very interesting and informative meeting in which the Justice expressed his appreciation for the opportunity to visit Tobago and the Country."
Mr London said a number of issues were discussed and both the Justice and the Ambassador pledged to continue to foster a relationship that will be for the mutual benefit of the Island and the Country as a whole.
Of the nine (9) sitting United States Supreme Court Justices, Justice Thomas is the only African American and the second African American to serve as Justice in the history of the highest Court in the United States of America.