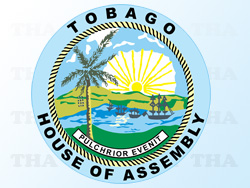 The latest data available from the Central Statistical Office (CSO) suggests that the rate of unemployment in Tobago at the end of the second quarter 2014 is down to a record low of about 2 per cent, Secretary of Finance and Enterprise Development Assemblyman Joel Jack has stated.
He noted that this is down from about 5 per cent for the comparable period in 2010 and said the economic experts will consider anything below 5 per cent to be full employment.
Jack was speaking on a motion at the February plenary sitting of the House of Assembly which urged all sectors of the Tobago population to collaborate in a process that would facilitate structural and systemic transformation; improve the island's competitiveness; and enhance the achievement of sustainable economic, environmental and social development.
The Finance Secretary said, the latest data on inflation available from the Central Bank for November 2014 suggests that headline inflation in Tobago is now down to about 2.5 per cent, significantly lower than the national rate of about 9 per cent.
He said preliminary information from the recently concluded Moody's Credit rating exercise indicates that Tobago will maintain its Baa1 credit rating, placing the island among the highest ranked in the Caribbean scoring higher than Barbados, Jamaica and St Vincent among others.
Jack said this is not the time for complacency because there is still a lot of work to do and "we must remain vigilant to ensure the tremendous gains we have made are not reversed".
"Notwithstanding the significant strides we have achieved in all aspects of development in Tobago, if we are to sustain these improvements in our quality of life in the future, one significant challenge we will continue to face is the need to diversify the island's economic base and transform the economy," Jack added.
He said the Survey of Business Establishments confirms that for the period 2011-2013, the services sector is still, by and large, the most dominant sector in the Tobago economy accounting for approximately 92.6 per cent of the island's GDP.
He added that the survey also indicates that of the services sector, general government activity, the financial sector and the tourism sector, contribute overwhelmingly to the island's GDP.
Jack promised the Assembly will continue to provide the support to develop and harness a culture of entrepreneurship as part of its overall strategy to diversify and transform the Tobago economy.
He disclosed that through the Business Development Unit's two flagship programmes, the Enterprise Assistance Loan Programme and the Enterprise Assistant Grant facility, the Assembly had provided loans and grants to 1,099 persons totalling $33 million, to start, operate and expand their businesses.