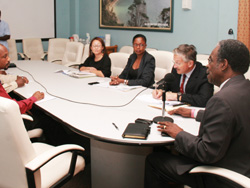 The United Nations Development Programme (UNDP) is willing to provide assistance to Tobago in the areas of training, human resource development, project management and technical expertise.
A three-member team from the programme met representatives of the Tobago House of Assembly (THA) on Tuesday (9th April 2013) to discuss the issues which would be of benefit to Tobago.
UNDP Resident Representative Henri Francois Morand said it was very important to revive UNDP's partnership with the Assembly that would be of particular importance to Tobago. He said the UNDP will be on the side of the Assembly to redouble its efforts to benefit Tobago and to better understand the Tobago perspective.
Chief Secretary Orville London said THA would have benefitted from some of the initiatives of the UNDP in the past including the supply of engineers in critical areas of the island's development.
In commending the UNDP for the collaborative initiative, London said the Assembly will decide on its priorities and work out a series of closer collaboration in which the programme could help benefit the people of Tobago.