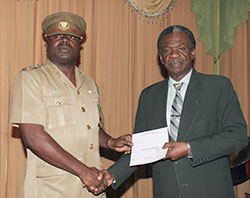 Chief Secretary of the Tobago House of Assembly (THA) Orville London on Thursday (11th April 2013) presented grants amounting to $127,900 to four individuals and organisations to assist them in meeting their expenses.
The largest grant of $104,000 was presented to the Tobago arm of the T&T Cadet Force to purchase white ceremonial uniforms for its members. The uniforms will be used for the first time at the anniversary ceremony of the Third Battalion of the Cadet Force comprising Tobagonians. Cloyd Blackman who received the cheque on behalf of the Cadet Force pledged the organisation's continued support for the youths of Tobago.
A grant of $18,000 was presented to Linda Eastman to assist in the funeral expenses of her father, 89-year-old Jose Eastman, one of the last two Tobago-born World War II veterans who made a contribution to the development of Castara and Tobago while he was alive.
London also presented grants of $5,500 to Merle Hercules of the Family First Foundation for the purchase of a living room set for use by the children of the institution and $400 to Carlos Trim for tickets for a fund-raising event of the Smithfield Learning Centre where children attend extra lesions.
In presenting the grants at his Calder Hall office London remarked that over the months the Assembly has been assisting various individuals and organisations but he was particularly pleased and proud to be associated with the individuals and organisations that would have received the grants.