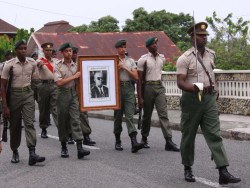 Glowing tribute was paid to former prime minister Dr Eric Williams on the occasion of his birth 100 years ago and his death of 30 years by both religious and political leaders on Sunday.
In winding up his sermon at the St Joseph's RC Church Monsignor Kenneth Spence described Dr Williams as a "champion and somebody with a great vision" who worked hard for the nation and sacrificed much. Spence said: "Dr Williams like all of us was not a perfect human being, he had his faults. He had a vision for this nation and he strove with all his intellect and his resources to have an abiding gift to the nation."
Spence said he was not a politician and had no political persuasion but the watchwords, discipline, production and tolerance that Dr Williams left still stood and were still essential to the development of people and those who may not have been politically affiliated to him.
"No politician can build this country by himself, no man is an island. The watchwords are discipline, production and tolerance and if we can take these watchwords to heart, church and state and if as a people we only say them and repeat them but we live them," Spence said.
The occasion was organised as a "portrait presentation ceremony of Dr Eric Williams, father of the nation" by Reginald Vidale, chairman of the Dr Eric Williams memorial committee in conjunction with the Assembly Legislature. The church service was followed by a parade of cadets and scouts to the Assembly Chamber building where addresses were delivered by Presiding Officer Ann Mitchell-Gift, Chief Secretary Orville London and Vidale. Portraits of Dr Williams were also presented to members of the Assembly.
London said Dr Williams had intellectual courage and he was not afraid to cross barriers and to enter new territory. The Chief Secretary recalled that it was because of the speedy, sensitive and effective response of Dr Williams to the ravages of Hurricane Flora in September 1963 that formed the catalyst for him in Tobago.
London asked his listeners to think what Dr Williams did for education in Tobago because it was he who made secondary school available for poor Tobagonians to aspire and recalled that he went to secondary school on a scholarship because it was the only way for him since his parents could not afford to pay the $16 a term for him to do so.
He said it was under Dr Williams that the approach to education and housing changed in Tobago. He said because Dr Williams felt it was difficult for the people of Tobago and Trinidad and Tobago to buy land and build houses he decided to build and sell the units to them. He added that many Tobagonians did not take up the offer of the houses at Bon Accord, Buccoo, and Charlotteville.
London said while the present community and social programmes had their genesis under Dr Williams, one of the most outstanding achievements was the establishment of the Tobago House of Assembly in 1980.
"Dr Williams was an excellent team leader, he was not a perfect man but nobody can deny that he led, and you always know who is in charge," London said.
Vidale said he has been visiting Tobago regularly for the past ten years and had noticed that remembering Dr Williams was not encouraged while it was also felt that Dr Williams did not do enough for Tobago.
"Today 30 years after his passing I want to take the opportunity to apologise to the people of Tobago. When one looks at the development of Tobago can only be indicative of the strong foundation that Tobago has built and that is why it owes a debt of gratitude to the founding father," he said.
He also appealed to London to name the new Scarborough Library under construction after Dr Williams and to have a portrait of the former Prime Minister hung in every school in the island.