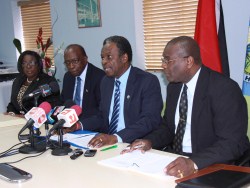 In a rare move the Tobago House of Assembly and the Central Government have joined forces to pay tribute to former Prime Minister and President Arthur NR Robinson by naming the Crown Point International Airport after the Tobago icon.
The name Arthur NR Robinson International Airport will be unveiled above the tarmac at a ceremony on Thursday at 2 p.m. in the airport's Domestic Departure Lounge. Robinson will be present at the renaming ceremony. A plaque will also be unveiled to mark the occasion.
Prime Minister Kamla Persad-Bissessar who will be in Tobago for the weekly Cabinet meeting and other engagements will deliver the feature address, while Chief Secretary Orville London will address the event. Other speakers will include Works and Transport Minister Jack Warner and Tobago Development Minister Vernella Alleyne-Toppin.
At a joint media briefing at the Administrative Complex of the Airports Authority at Crown Point on Monday both London and Warner spoke of the cooperation between the Assembly and the Central Government "for the common cause" of recognising Robinson for his contribution to the nation.
London recalled that following the acceptance of a Motion in July last year by the House of Assembly the procedure to have the airport renamed after Robinson was kicked in, seeking permission from the Works Minister who took a Note to Cabinet in January 2011 seeking approval. He added that the Minute giving approval for the name change was received in March and immediately Chief Administrator Dr Ellis Burris started the process. He said he was a little concerned when the Prime Minister made the announcement about the matter on May 9.
Addressing the media briefing Jack admitted that in the haste to get Cabinet's approval "we may have made mistakes". He apologised to London and made it clear that it was an initiative of the Assembly.
Alleyne-Toppin also congratulated the Assembly on the move, adding that it was one of the People's Partnership Government campaign promises.