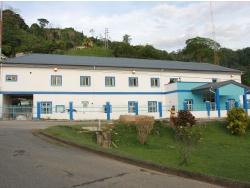 The Ministry of Health has given June 30 2011 as the new completion date of the Scarborough Regional Hospital at Signal Hill. Already the National Insurance Property Development Company Limited (NIPDEC) has invited tenders for the supply and installation of furniture, fixtures and equipment for the new hospital.
Speaking at Wednesday's post Executive Council media briefing THA Assistant Secretary of Health and Social Services Huey Cadette said the Ministry was hoping to complete the equipping of the facility by November 30, which will then give way to its handing over to the Assembly.
Cadette said a six-month process of moving in of staff and services would be done in three phases beginning in January 2012. He explained that the first phase will deal with the institution of non-clinical staff such as security officers, followed by out-patient services in the second phase and finally warded patients.
It was just six weeks ago at the opening of the much anticipated Scarborough Health Centre that THA Chief Secretary Orville London said: "I just want the people of Tobago to be patient with the delivery of the hospital, recognising that as we have delivered in Roxborough, as we have delivered in Patience Hill, as we are delivering here today, as we will deliver in Charlotteville in a couple of months, we will deliver the Scarborough General Hospital."
Cadette reported that within weeks of opening its doors, the new $28 million Scarborough Health Centre provided services to 1618 patients at its walk-in services resulting in about a 20 per cent reduction in the flow of patients seeking care at the Scarborough hospital. Adding that dialysis patients in Tobago were now spared the hassle of travelling to Trinidad for care since all 10 chairs at the centre were in use. There were also no referrals to Trinidad in recent times, he said.
The centre also provided other specialist care including HIV Rapid testing three days a week and a wound care clinic. Coming on stream soon, would be the anti-coagulation clinic for which staff were now being trained.
Cadette said the new Charlotteville Health Centre was still on course for its completion date of August 2011. The centre will facilitate patients in the catchment area inclusive of Bloody Bay, Speyside and L'Anse Fourmi.
Speaking at a media conference at her ministry earlier this week, Health Minister Therese Baptiste-Cornelis praised Tobago's approach to healthcare, calling it a model for Trinidad and the wider Caribbean. She said the Tobago model was an integration of health services being used by the Tobago Regional Health Authority (TRHA) to deliver quality care with emphasis on mental health as well as HIV and Aids.