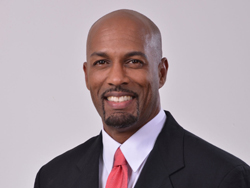 Tobago will now be recognised at all international athletic meetings following representation by THA Chief Secretary Orville London to the T&T Olympic Committee.
Assistant Secretary with responsibility for Youth and Sport Assemblyman Jomo Pitt disclosed at Wednesday's post Executive Council media briefing that the acronym TRI will now be replaced by TTO, representing Tobago's participation at athletic games.
Pitt had a meeting with Sports Minister Anil Roberts on Tuesday who disclosed that repairs to the five stadia in Trinidad and Tobago was estimated to cost between $150 million to $200 million and it was only after a final report would the actual cost be known. Pitt said whatsoever the cost he expected the THA to foot part of the bill to repair the Dwight Yorke Stadium.
He said the Assembly had assumed the responsibility to fund repairs to the Mondo track, field and drainage at Dwight Yorke and a Memorandum of Understanding (MOU) to give effect to this was signed this week between the Division and the Sports Company of T&T. He disclosed that a cheque for $5 million will be paid to the company by weekend so that the track could be laid from next week.
He said while lights were ready to be commissioned at Shaw Park, Calder Hall and Lambeau recreation grounds the use of the fields was being delayed for the grass surface to be restored. He added that the electricity supply had to be connected at Speyside, Moriah, Signal Hill, Mason Hall, Mt Pleasant and Mt Gomery. He said T&TEC has promised to have the connections to these grounds completed by March 15 after which the surfaces will be restored.
However, he said, the lighting system at Mt Grace, Table Piece and Mt St George will take much longer to be completed since T&TEC indicated that it would have to invite tenders for a company to carry out this work.