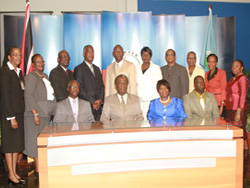 A former chairman of the Tobago Regional Health Authority (TRHA) has been appointed to the position for a second time.
Trevor Craig who served in the capacity between 20001 and 2003 received his instrument on Monday (24th March 2014) along with the Deputy Chairman Lydia Peters and seven directors representing various interests from Chief Secretary Orville London at the Calder Hall Administrative Complex, Scarborough.
The other directors who will serve the two-year term are former medical hospital director Dr Maria Dillon-Remy (medicine), former NAR assemblyman and television talk show host Gerry Mc Farlane (public interest), former NAR assemblyman and Industrial Relations Consultant Max James industrial relations), attorney Ingrid Melville legal affairs), Allan Crooks (THA interest), Kirton Daniel (business affairs) and Lystra Sebro (nursing).
In a brief address to the new board, Secretary of Health and Social Services Claudia Groome-Duke, said the TRHA has continued to show remarkable growth and development in all aspects since the relocation of services to the Scarborough General Hospital in 2012.
She told the board members that the Assembly was looking to them to assist in its promise to deliver first class healthcare to the people from "conception to exit or from birth to earth". "Integral to our success is recognising that the people must be at the heart of everything we do," she said.
Groome-Duke said while the Assembly would ensure the best healthcare in Tobago, it also underscored by the the importance of individual personal responsibility for leading healthy lives.
London told the Board members that they are assuming office at a very interesting time when an evaluation was being done of the divisions of the Assembly to determine their deliverables.
He added that every single member of the Board had a personal reputation to protect so that "if you fail, individual members here who over the years had developed a particular reputation, those reputations are at stake and that is what gives me comfort because you all will not make me ashamed because you don't want to be ashamed yourself".