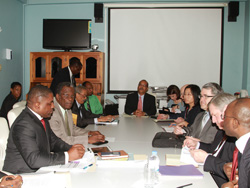 Tobago funding, performance and tourism headlined a three hour meeting between the THA and the International Monetary Fund (IMF) on Monday.
A six-member mission from the IMF held a three-hour meeting with Chief Secretary, Orville London and Secretary of Finance and Enterprise Development, Joel Jack on Monday (24th March 2014) to discuss the Tobago economy.
Assemblyman Jack said Head of the Mission Eli Canetti requested an overview of the Tobago economy by sector. All economic indicators based on all the available data were shared with the visitors.
"We outlined the challenges facing the Tobago economy with respect to funding and issues surrounding alternative mechanisms to finance Tobago's funding," Jack said.
He said the meeting looked at the tourism sector in detail and its recent performance and projections. He said the IMF team was interested in the future plans for the tourism sector and what was needed to grow and to expand it.
Jack said the Assembly sought technical assistance from the IMF with respect to some challenges and issues relating to data analysis and production support for some of its Public Private Partnership (PPP) initiatives. "I am heartened to say that the IMF team was really willing to cooperate with the THA."
During the meeting Jack made a formal presentation on the Tobago Comprehensive Economic Development Plan, 2013-2017 Volumes 1 and 2 and all relevant data on Tobago. Jack also referred to the growing trend in international partnerships with Tobago. Early last year a UNDP team was in Tobago to partner with the Assembly to provide technical assistance, while the IDB came to meet with the Assembly and to also partner with the Division of Finance for its 2013 business and outlook conference.
The Finance Secretary said: "When you see that trend it says something about what we are doing in Tobago under this administration. It points to our focus and to the fact that we are doing something well and they want to get a better feel for what is happening on the ground."
This was the first visit of an IMF Mission to Tobago under "Article 1V Consultations" – the IMF consults annually with each member government. Through these contacts, known as "Article IV Consultations," the IMF attempts to assess each country's economic health and to forestall future financial problems.
Jack described the meeting as very productive and the Assembly requested the consultation to take place annually, to discuss economic issues pertinent to Tobago.