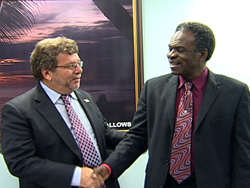 A second round of talks to determine the way forward for Tobago's tourism sector and specifically the 200-room Vanguard Hotel failed to get a commitment from Trade and Industry Minister Stephen Cadiz on a proposed date for the hotel to swing open its doors for business.
The Tobago House of Assembly is hoping that the hotel would have resumed operations for the winter season this year so that Virgin Atlantic and other international air carriers could add another flight to their schedule from December.
However, the three-hour meeting at the Division of Tourism in Scarborough heard the Minister who is also acting Tourism Minister speak of a Tourism Investment Fund to assist in refurbishment and improvement to the existing hotel plants on the island.
Also discussed were initiatives to deal with crime, especially against visitors with the introduction of cameras for witnesses to give evidence in court hearings, the functioning of a third magistrate's court in Scarborough for swift justice to be delivered, the installation of CCTV cameras in crime hot sports, security at hotels, guesthouses and villas, as well as the appointment of a public relations consultant to make recommendations on how to proceed to treat with the backlash of crimes against tourists.
Among those present at the meeting were THA Chief Secretary Orville London, Tobago Development Minister Vernella Alleyne-Toppin, Minister in the Ministry of Tourism Dr Baker, THA Tourism and Transportation Secretary Oswald Williams, vice president of the Tobago Hotel and Tourism Association Chris James and president of the Trinidad Hotel and Hospitality Association and TDC director Kevin Kenny. There was a general consensus that the meeting was "fruitful".
Minister Cadiz told a media briefing that the issue of the Vanguard Hotel was challenging and was not an easy investment. He said it was proving difficult to find suitable investment, adding that the government received two proposals last year for operators of the hotel but these were unsatisfactory. He said it was also looking at a partnership whereby equity can be invested by the partner.
Cadiz said something drastic has to happen for the tourism industry and "we may have to act outside the box".
Williams said the public relations consultant was asked to determine the impact the incident involving Murium and Peter Green had on the United Kingdom and European markets. "She reported that we do not have a crisis but the situation has the potential to develop into a crisis," Williams said.
He also announced that Tobago will be represented by two members of his staff at the Caribbean Market Place taking place in Jamaica from January 16 to 19.