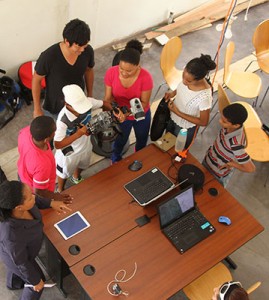 Deep beneath the harbour at Scarborough, Tobago lie the archaeological remains of a dozen 17th-Century Dutch and French warships.
Those artefacts represent part of the island's heritage, an age in its history where the territory's 300 square kilometres were fought over and would change hands 32 times before the British eventually made Tobago an administrative ward of Trinidad in 1889.
Since 2012, a joint team from the University of Connecticut and the Institute of Nautical Archaeology at Texas A&M, led by Dr Kroum Batchvarov, has been working to study the site and preserve it in accordance with international maritime laws, through the Tobago House of Assembly's Rockley Bay Research Project (RBRP).
Also participating on the project is Professor Nigel Nayling from the University of Wales Trinity St David, which is being undertaken with the support of the Division of Tourism. Any artefacts salvaged will remain in Tobago.
In addition to investigating and researching shipwrecks from the battle of 1667, RBRP made a commitment to the THA to provide capacity-building and local outreach to Tobagonians.
As part of that commitment, the Project hosted more than 20 primary and secondary school students on Friday (July 17, 2015). The students participated in a Virtual Archeology Project workshop at the Port Museum in Rockley Bay, Scarborough. The interactive session was held to teach Tobago's youngsters about the science of archaeology and the methodology of research and conservation.
"We're committed to capacity building and history being made accessible to the people of Tobago," RBRP Director of Operations Jason Paterniti said, adding that his team wanted to show the children Tobago's "amazing history in this bay."
"We believe it's critically important to protect cultural research. The only way to protect cultural research, which can provide jobs and economic benefits in the form of tourism, is we have to educate," Paterniti said.
At the workshop, the students learned about the methodology of research. Stations were set up to explain how the excavated artefacts are conserved. The equipment on display included an underwater camera, excavation equipment such as a dredge—which sucks debris away underwater— and a computer that displays 3D modeling images. Students were also shown a few of the artefacts so far recovered and how the finds were recorded.
"We need scientists and trained conservation experts," Paterniti said. He hopes initiatives such as the workshop will inspire young Tobagonians to learn about archaeology and use their knowledge to contribute to society.