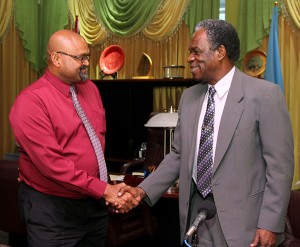 Chief Secretary Orville London is pleased with the progress being made by the Trinidad and Tobago Electricity Commission (T&TEC) to bring a more reliable supply of electricity to northeast Tobago.
The electrical infrastructure in that part of the island has been in place since 1962, and London said he had heard complaints from residents about the inconsistent service they been receiving. According to London, the situation at the time was "unsatisfactory," and in some cases "dangerous."
London met with officials from T&TEC on Thursday (July 16, 2015) at the Administrative Complex, Calder Hall, to get an update on infrastructural upgrades the Commission has been carrying out in the area.
"What has happened in recent months is T&TEC has been able to move the infrastructure from inland to the roadway," the Chief Secretary explained. "This means it will be much more accessible for maintenance, ensuring that it's easier to put down streetlights."
He was also encouraged with the progress being made.
"I was very comforted when they indicated that the first phase, from Runnymede to Castara has been completed," he said. "The second phase between Englishman's Bay and Bloody Bay should be brought into service within the next two weeks; and then Bloody Bay to L'Anse Fourmi by mid-September; and then the final phase to the Campbelton/Charlotteville area by the end of November."
The Commission has also had some challenges in providing streetlights to some of these areas, London said.
"T&TEC indicated that they've been plagued by the unavailability of adequate resources, including manpower and materials," he stated.
London said the THA will be reviewing the needs of electoral districts across the island. The Division of Infrastructure and Public Utilities will also meet with T&TEC to address the issues of individual communities. London said the Assembly, which is responsible for the costing of the lights, wants an "efficient and effective roll-out" of the streetlights.
The Chief Secretary praised T&TEC for its timeliness and the quality of its responses, in recent times, to requests from THA Divisions, including the Division of Community Development and Culture, which was connected last week. The Division had previously been operating on a generator.