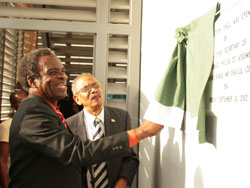 The first factory shell at the 140-acre Cove Eco-Industrial and Business Park was commissioned on Friday signalling a "new frontier for Tobago".
According to THA Finance and Enterprise Development Secretary Dr Anselm London under whose remit the new industrial park fell, the occasion was a great day for the people of Tobago as the Assembly moved forward to diversify the island's economy away from tourism.
He said the Assembly took plenty of pressure to continue to build Cove, adding that it had cost tax payers $150 million so far to develop, $100 million in savings coming from the THA and $50 million from allocations by the Central Government. He added that since May 2010 the Assembly has been denied industrial incentives for the park and efforts have also been denied to have the park enjoy duty concessions so as to encourage business manufacturing.
Dr London said this however did not deter the Assembly and to date full occupancy has been assured. He said the first two local manufacturers, Rojas Metal Works and Cove Door Manufacturing Company Limited have been waiting in the wings to open up business since they have already obtains orders from Trinidad, the United States and as far as Africa.
He said a second factory shell which was currently under construction will be ready for opening in November and it was hoped that a business incubator for 21 clients and four other factory shells would be constructed on the estate in the coming months.
A plaque to commemorate the occasion was unveiled by Tobago Chief Secretary Orville London and Chairman of the Eco-Industrial Development Company of Tobago (E-IDCOT) Ltd, operators of the park. The park also includes the NGC $1B natural gas plant and the $600 million T&TEC 64megawatt power plant, while the streets have been named after prominent Tobago entrepreneurs. The first factory shell was named after Tobago's business icon IT McLeod.
In his address Chief Secretary London said Cove was not just about buildings and the park cannot afford to be stagnant, adding that "we have to raise much more than the $150M to get where the Assembly wanted it to go".
London said the Assembly had invited proposals for the development of an industrial port to serve the park or a tourism port and this was part of the vision to make Tobago a "green island".
He added: "It is not a pipe dream, it is a vision. Just as how this is a unique industrial park so too we can make Tobago a unique island. Cove cannot afford to be stagnant and therefore we will continue to provide the magic. Tobago cannot be insulated as an island. If we did Cove we can do anything."