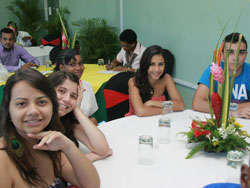 A contingency of 23 Brazilian students and 2 teachers came to Tobago yesterday (January 17, 2013) and met with their counterparts from 8 secondary schools. The group was hosted by UNESCO at the Division of Education, Youth Affairs and Sport (DEYAS).
The students are visiting Tobago from the English Extreme School in Cubatao, Brazil until Sunday as part of UNESCO's ASPNet School Exchange Programme. The aim of the exchange is to foster interaction between Tobagonian and Brazilian students as they share experiences.
As part of the exchange, the contingency will be visiting local sites including the Buccoo Reef, where they will observe the coast line, Speyside High School and Jemma's Tree House. Students from both countries will focus on sustainable environmental development, climate change and its effect on the environment.
"It's important that we create these links between the Caribbean, South America, Central America and North America," Coordinator of School Supervision Dr. Verleen Bobb-Lewis said during the welcome lunch.
Member institutions of ASPNet support international understanding, intercultural dialogue and sustainable development. The 8 participating Tobago secondary schools include Scarborough Secondary, Roxborough Secondary, Bishops High School, Mason Hall Secondary, Speyside High School, Signal Hill Senior Comprehensive, Goodwood High and Pentecostal Light and Life. The ASPNet programme was established in 1953. Educational institutions from 180 countries participate in the programme.