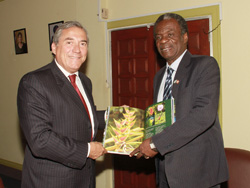 Chilean Ambassador to Trinidad and Tobago Fernando Ayala has said Tobago has a lot of experience and knowledge in tourism which it can teach his country.
As a result, he said, he plans to begin discussions on cooperation and technical assistance with authorities in the island.
Ayala was speaking in an interview following a 20-minute meeting with THA Chief Secretary Orville London at the Calder Hall Administrative Complex in Scarborough, Tobago on Thursday. (10th January 2013)
Ayala said he had spoken to London about the importance of tourism to Tobago and informed him that Chile can learn a lot from the island's experience on how to preserve its rain forest, environment and other similar things.
"We have a lot of islands in Chile as well but we don't have developed tourism as in Tobago. You have a lot of experience in this," Ayala added.
He noted that when people in South America and specifically in Chile talk about the Caribbean they think immediately about Cuba and the Dominican Republic but they don't see this part of the Caribbean.
He said Tobago should be more known in Chile because it was an island with a very strong economy. He said Chileans go to many places for vacation but not to Tobago and this could be one of the tourist destinations for them. "I think we have a very important area to collaborate with Tobago," he said.
Ayala who assumed his post three months ago in Port of Spain said after reading and learning of Tobago's beaches and environment he decided to take a weekend visit with his family and since then has been here on three occasions. He said he was also awaiting an opportune time to meet and have discussions with London.
He said Chile will be hosting the IV CELAC-EU Business Summit in Santiago de Chile from January 25 and 26 2013 at which Prime Minister Kamla Persad-Bissessar has indicated she will be attending as head of the Trinidad and Tobago delegation.
Ayala said this was a political matter of important for everybody that leaders of Caribbean and Latin American states should attend to hold discussions with representatives of the European Union (EU).