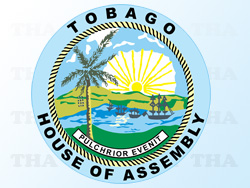 The Unemployment Relief Programme in Tobago will continue its focus on training when the programme re-opens on Monday 14th October.
That's the assurance given by Assistant Secretary in the Division of Infrastructure and Public Utilities, Handel Beckles while speaking at the THA's Face to Face meeting at the Signal Hill Secondary School on Thursday 12th September.
The URP, Development and Tomas programmes under the DIPU will close on Friday 13th September and reopen on Monday 14th October, and Mr. Beckles is assuring the workers that no one will lose their jobs. He says the URP employs over three thousand (3000) persons, many of them single parents who have been trained in various skill areas and who can now provide for their children. In the Women's Programme, Mr. Beckles says seven women have been trained as nurses and before the year ends the programme will include an academic component for persons who can't read or write.
The Assistant Secretary says a schedule for re-registration for the URP, Development and Tomas programmes will soon be released to the public, but in the meantime fine tuning will take place for a fresh start of programmes and projects on Monday 14th October.