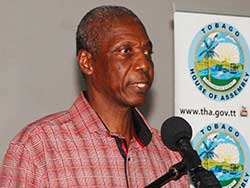 The Division of Infrastructure and Public Utilities will push to have the Scarborough Library and the Shaw Park Cultural Complex completed in the shortest possible time, despite technical issues and budgetary shortfalls.
Speaking at the THA's Face to Face meeting at the Signal Hill Secondary School on Thursday 12th September, DIPU Secretary Hilton Sandy indicated that the Complex is facing technical issues with the contractor Nipdec, since the desired results are not being achieved. The THA had requested $75M to complete the Complex but was only allocated $8M in the national budget read earlier this week. Despite this, Mr. Sandy says the Assembly will put pressure on Nipdec to have the Complex completed in early 2014.
With respect to the Library, Mr. Sandy says the structure is 95% completed and should be handed over soon to the Division of Education, Youth Affairs and Sport for outfitting. He says when completed, the Scarborough Library will be a state of the art facility which patrons can access from remote locations.
In reporting on the DIPU's road and building maintenance programme, Mr. Sandy says the division has the manpower to complete tasks but not the amount of money that is required. However he says rehabilitation of the Claude Noel Highway, Milford Road, Lambeau Road and the L'Anse Fourmi Road will continue apace, along with construction of the Smithfield Road to Sangster's Hill bypass and the Shaw Park Roundabout. Mr. Sandy indicated as well that the Division's road paving exercise throughout Tobago's twelve constituencies will continue, along with the reconstruction of the bridges along Milford Road.
The Secretary says the Division's next major projects will be construction of the Shirvan Roundabout, the Roxborough Plaza which will provide administrative services for east Tobago, and the Charlotteville mini-mall.