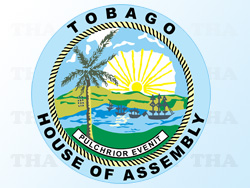 THA Chief Secretary Orville London has promised young table tennis players a permanent place to practice their sport.
He was responding to remarks of Manager of the 16-member Tobago Table Tennis team Diron Douglas during a recent courtesy call. The manager had complained that the team previously used the new John Dial Community Centre for practice sessions but because the time clashed with other events it was unable to do so.
The young Tobago girls and boys whose ages range from 7 to 12 years form part of a 24-member T&T squad going to Jamaica to participate in the 7th Regional Table Tennis tournament from July 20 to 26.
London told the youth that he felt very proud as a Tobagonian to know that the national table tennis team has three quarters of its members from Tobago and this was to the credit of coach Dexter Abbot. "What is very encouraging is the age of the team and regardless of the results I feel proud of you. Work hard and train hard and taken that some kind of discipline into the class rooms.
"There is no reason why one of you can't get a scholarship. Play your tennis and do your lessons," London told the youths.
Coach Abbot said the team consisted of members who have the capacity to medal.