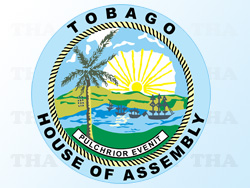 The Tobago House of Assembly (THA) is spending an estimated $18 million in repairs to 43 primary schools, nine secondary schools and a couple Early Childhood Care and Education Centres (ECCEC) during the current two-month vacation, Secretary of Education, Youth Affairs and Sport Councillor Gary Melville has disclosed.
He added that work on the schools started this week and was expected to be completed in time for the reopening of the new school year in September.
Melville who was speaking at Wednesday's post Executive Council media briefing also disclosed that ramps for the physically challenged were being constructed at selected schools throughout the island. In addition the washroom facilities at these schools would also be adjusted to accommodate the physically challenged.
The Education Secretary further disclosed that the payment of arrears of salary owned to teachers, monthly paid public officers and daily-paid workers was being held up because the Assembly had not yet received the full amount from the Central Government.
He said the Assembly's Chief Administrator was in constant contact with the Ministry of Finance on the matter. He said the payments due to the workers were being audited so that there will be no delay when the funds were received from the Ministry of Finance.
Commenting on the results of the Tobago students in this year's Secondary Entrance Assessment (SEA) examination, Melville said of the 855 students who sat the examination girls had better scores than the boys. He said 537 students got above 50 per cent of the marks while 9.2 per cent of these students received fewer than 30 per cent which was less than in 2012. He said remedial work will have to be done with these 79 students.