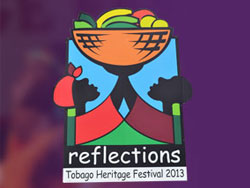 The 2013 Tobago Heritage Festival with the theme "Reflection" gets going tonight (Friday 12th July 2013) at the Car Park of the Dwight York Stadium, Bacolet.
For the next 20 days Tobago's cultural heritage will be on show at various villages across the island. Ms Heritage Personality will be crowned at a show at the Cyd Gray Sporting Complex, Roxborough on July 19.
The Division of Community Development and Culture has budgeted $12.5 million for the festival which is $.1 million less than last year.
Addressing Thursday's post Executive Council media briefing Secretary of Community Development Councillor Dr Denise Tsoiafatt-Angus told reporters that regardless of how much the staging of the festival would cost it was an investment in the future of all the lives of Tobagonians to ensure that "we know about our heritage, we treasure it and that we are able to live it in some form and be able to continue to hand it downward authentically because we know the meaning of it".
She said this year's festival would be intriguing based on the type of stories that would be coming out of the events. She said in terms of reflection all persons were asked to go in, look at stories that have not been told before, stories that have not been told in a long time.