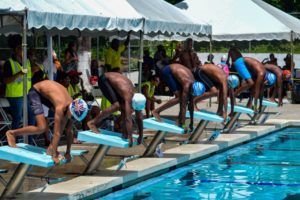 The Tobago YMCA collaborated with the Division of Sport and Youth Affairs for the 8th Tobago YMCA Invitational Swimming Championships this weekend (August 24 & 25).
The swimming championships hosted over 200 competitors from 11 teams across Trinidad and Tobago and included national competitive swimmers and developmental swimmers.
Participants included the Atlantis Aquatics Swim Club, Blue Dolphin Swim Club, Flying Fish Swim Club, Marlins Swim Club, Sea Hawks Swim Club, RWB Aquatic Academy, Tidal Wave Aquatics of T&T, Trident Aquatics of T&T, Tsunami Swim Club, Point Fortin Aqua Darts and, home team, the Tobago YMCA Aqua Warriors.
Trinidad's Flying Fish Swim Club was the event's overall winner, with the Point Fortin Aqua Darts coming in second and the home team, Tobago YMCA Aqua Warriors, placing third.
In addition, Tobago YMCA Aqua Warrior, Jacob Cox, placed 3rd overall in the 11-12 Boys category.